Oktoberfest? More like Stocktoberfest with Trade Ideas!
Join Trade Ideas, Stocktwits, and more at Stocktoberfest
Our friends at Stocktwits are hosting a big gathering of industry players including investors, traders, money managers, and entrepreneurs this Thursday and Friday across the bay from San Diego in beautiful Coronado. Guests and speakers will engage in discussions about the latest tools, strategies, and overall market trends for the upcoming year.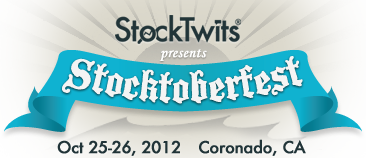 The Stocktoberfest event provides an excellent opportunity for networking and sharing viewpoints about today's markets and successful strategies. The agenda includes networking activities Thursday afternoon and evening at Tavern on Coronado followed on Friday with a full day of insightful speakers at the restored Coronado Village Theatre.
Trade Ideas founding partner and CEO, Dan Mirkin, is scheduled to speak about the
Advent of Unstructured Data Mining for Alpha Capture
, or using tools such as Trade Ideas to capture alpha by exploiting non-traditional information channels.
Other featured speakers at Stocktoberfest include Stocktwits co-founder and CEO, Howard Lindzon; former head of Internet Research at Goldman Sachs, Michael Parekh; Vice President of CNNMoney.com, Chris Peacock; Gurtin Fixed Income Fund founder, Bill Gurtin; the Reformed Broker, Josh Brown; and other notable industry authors, bloggers, and community members.
Stocktoberfest is sponsored by Trade Ideas, Social Leverage, Silicon Valley Bank, Lucky Sort, Hand Baldachn & Amburgey, Y Charts, CNN Money, the San Diego Union Tribune, Benzinga, Liquidnet, CME Group, and Cooley.
Dan and Trade Ideas look forward to meeting everyone attending Stocktoberfest.